From the Shelf
The Gift of Cooking
Cookbooks make wonderful gifts, and in this issue we've assembled a wide range to choose from. Nothing beats browsing in your local bookstore, feeling the pages and ogling the photographs, but we attempt here to give you a taste of some of our favorites. If there is a silver lining to the pandemic, it's that so many of us have rediscovered an appreciation for preparing food and sharing it with loved ones.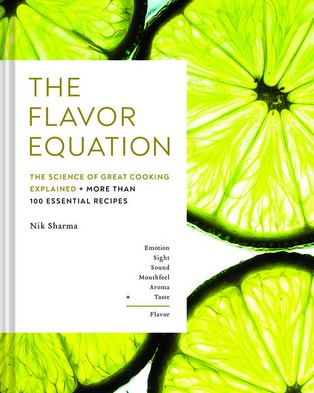 For me, that's meant tackling two of my greatest fears in the kitchen: baking bread and making risotto. I've added yeast, arborio rice and more to my pantry staples. But it never occurred to me to use miso in a dessert. That's what Nik Sharma does in the addictively readable The Flavor Equation (Chronicle, $35) with Chocolate Miso Bread Pudding. Sharma approaches cooking as a science ("Emotion + Sight + Sound + Aroma + Mouthfeel + Taste = Flavor") and divides the 100 recipes accordingly. (Cream cheese and crème fraîche give Crab Tikka Masala its "rich mouthfeel.") Because Sharma also worked as a food stylist and photographer, the visuals are showstoppers.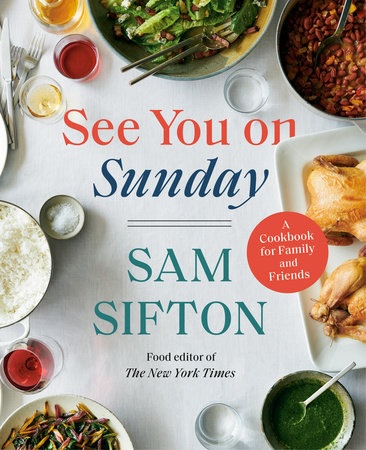 If Sharma pushes home cooks to the wild side, Sam Sifton returns them to their comfort zone with See You on Sunday (Random House, $35). Yes, his aim was to gather family and friends around a weekly hearty meal, but how about dropping off a dinner for friends hunkering down at home? Sifton starts with 17 ways to make chicken, from Southern U.S. to Italian to Chinese preparations; then pulled pork and duck. Nothing goes to waste: fat from the duck may be used in chicken prep or scrambled eggs; chicken bones yield rich broth. Rice and bean dishes may be main courses or fabulous side dishes, and roasted vegetables await. I am working myself up to conquer my last fear: pie dough from scratch. Sifton makes it look so easy. --Jennifer M. Brown, senior editor


Upcoming Events
05/18/2021 - 7:00PM
What: We are THRILLED to launch Emiko Jean's new novel Tokyo Ever After. She will appear in conversation with David Yoon to celebrate the release of her novel. This event is free to attend, but registration is required. You can register for the event here. Once you register, you will receive an invitation to join the event. NOTE: Because this is a virtual event that will be hosted on Zoom, you will need access a computer or other device that is capable of accessing...
John Green | The Anthropocene Reviewed
05/19/2021 - 6:00PM
What: We are thrilled to welcome John Green in conversation with Hank Green to discuss his new book The Anthropocene Reviewed: Essays on a Human-Centered Planet. This is a ticketed event; each ticket includes access to the virtual event and a signed copy of The Anthropocene Reviewed: Essays on a Human-Centered Planet. Each ticket will include a $1 charitable donation to a cause John is very passionate about: maternal health in Sierra Leon. This event will be ticketed through Eventbrite...
Jeff Guinn | War on the Border
05/19/2021 - 7:00PM
What: We are so excited to welcome Jeff Guinn to talk about War on the Border: Villa, Pershing, the Texas Rangers, and an American Invasion. He will appear in conversation with Judge Ken Wise to celebrate the release of this book. This event is free to attend, but registration is required. You can register for the event here. Once you register, you will receive an invitation to join the event. NOTE: Because this is a virtual event that will be hosted on Zoom, you...
05/19/2021 - 11:00AM
Coffee Cake Book Club meets the third Wednesday of each month at 11:00 a.m. This month's book will be Call Your Daughter Home by Deb Spera. *Until further notice, book club meetings will take place via Zoom! Email Valerie at girlboss@bluewillowbookshop.com for an invitation, or if you have questions.
Book Candy
English-Language Mistakes
Mental Floss highlighted "12 notable English language mistakes."
---
Merriam-Webster explained "how to use word division dots and syllable hyphens."
---
"Women and crime writing: We've always been detectives," CrimeReads noted.
---
Welcome to a 360-degree tour of Jane Austen's house.
---
Russia Beyond showcased the "5 BEST Russian books about love."

Great Reads
Rediscover: Cooked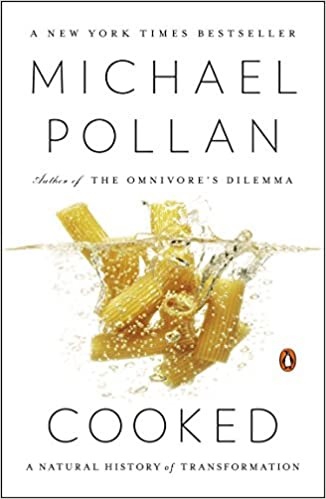 Michael Pollan's Cooked: A Natural History of Transformation (2013) began as an attempt to improve his skills in the kitchen, such as how to make barbecue pork, bread and cheese. His research evolved into an exploration of cooking as a quintessential human endeavor, one that strengthens social bonds and even aided the evolution of culture. The book is divided into four elements--fire, water, air and earth--and explores how people channel these elements into the cooking process. Bread, for example, is the result of combining air and water. Pollan's journey takes him to a master barbecuer who reveals the secrets of slow-roasting a pork shoulder, a chef with the key to braised beef bolognese sauce, and a behind-the-scenes look at sauerkraut. Among other insights, Pollan concludes that people should stop watching so many cooking shows and do more cooking themselves.

In 2016, Cooked was adapted into a four-episode documentary series on Netflix, each episode dedicated to one of cooking's elements. Cooked is available in paperback ($18) or as part of the Pollan on Food Boxed Set ($53), which also includes The Omnivore's Dilemma and In Defense of Food, all available from Penguin Press. --Tobias Mutter

The Writer's Life
Marcus Samuelsson & Osayi Endolyn: Black Excellence in Food
For his latest cookbook, The Rise (Voracious/Little, Brown, $38; reviewed below), featuring inspired recipes alongside profiles of Black American culinarians, chef Marcus Samuelsson collaborated with writer Osayi Endolyn. Shelf Awareness spoke with them about their research and writing process, as well as their aims for The Rise as it enters the world during a year defined by a pandemic and the Black Lives Matter movement.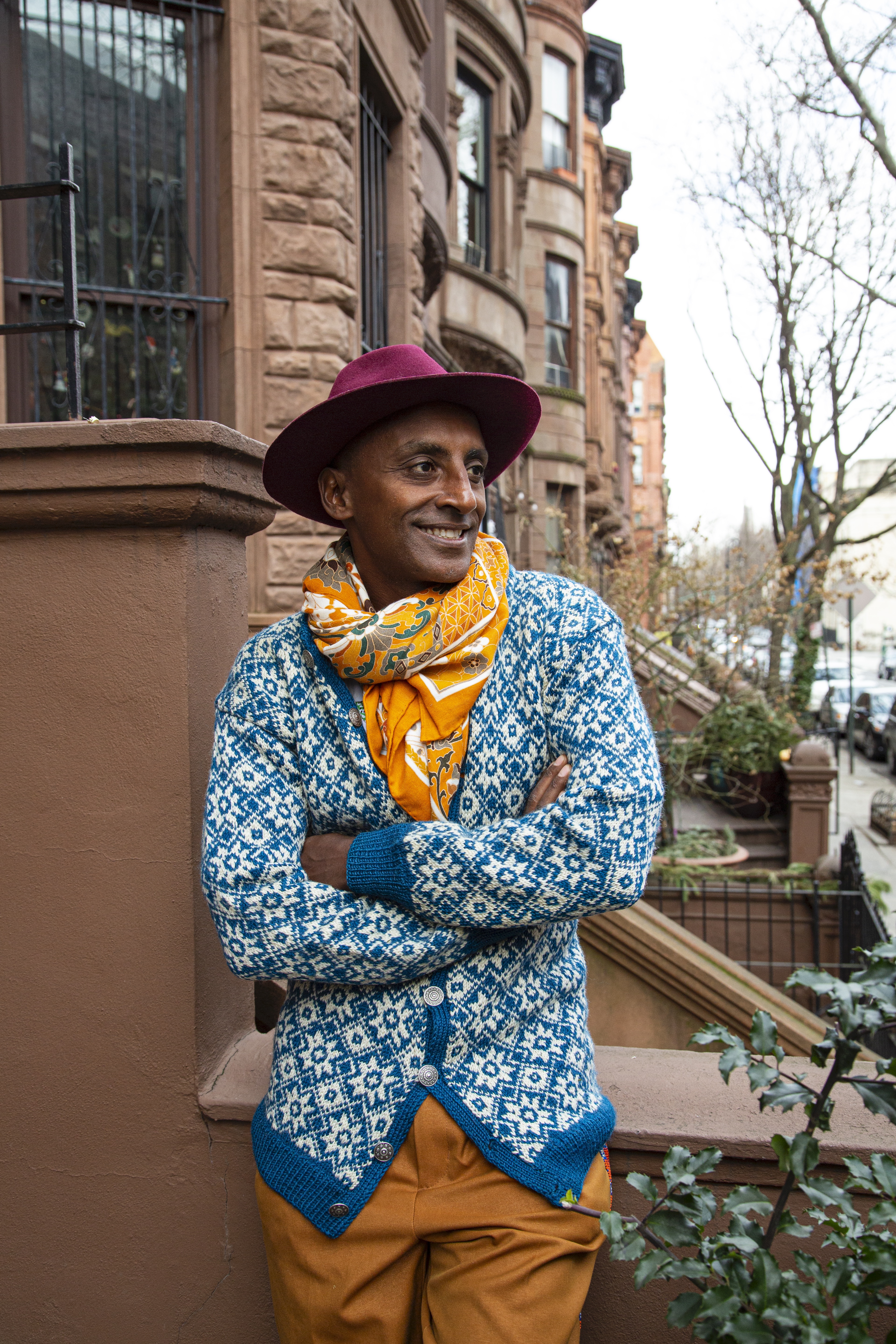 (photo: Angie Mosier)
Marcus Samuelsson was born in Ethiopia, raised in Sweden, and currently resides in Harlem, where he runs the restaurant Red Rooster. He has opened restaurants around the world and traveled throughout the United States for his PBS series No Passport Required. His other books include the memoir Yes, Chef and The Red Rooster Cookbook.
When did you first start thinking about writing this book?
Marcus Samuelsson: I've been in the space for 25 years and also evolving as an individual. As I evolved through the 2000s, I started asking myself, here are all these incredible people that I've met along the way. They either cooked with me, their parents owned a mom-and-pop, or they're amazing writers.
The Rise is about presenting Black excellence, one. Then second, take back the authorship of American food where Black excellence and Black chefs have done incredible contributions. For me, it's very important to create content that I feel taps a void.
What was the writing and recipe development process like--and the collaborative nature of it?
Samuelsson: Osayi, Yewande [Komolafe, who collaborated on recipe development] and myself--you're looking at three Black people in the food space. Our journeys are vastly different. Yewande's expertise, specifically in West African cuisine, is far beyond mine. Osayi's know-how in non-chefs, for example, is much better than mine--and obviously coming at it from a journalist's point of view and asking other questions.
There're so many curveballs to it, too. We thought we were done and then... the pandemic, which obviously impacts the Black and brown community very differently. Here we go again with something that impacts us differently. So now it took a whole other turn.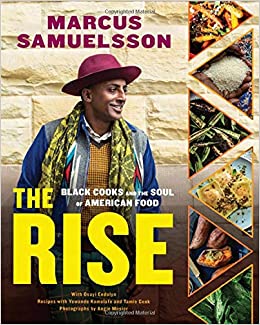 What added impact do you hope The Rise will have going into the world right now?
Samuelsson: I think you have to look at it from short-term and long-term. Short-term awareness: it hopefully leads to new opportunities for not just the people in The Rise but for Black and brown chefs on a local level.
And in the long term, it's about rewriting us back into American history. We know about regional Italian food. We know about regional Southeast Asian food or Japanese food. But we don't know about regional Black food. We know the difference between ramen and soba, but we don't know the difference in terms of how Creole cooking is very different than low country.
One of the distinctive motifs in The Rise is music. In your description of the Roasted Cauliflower Steaks with NOLA East Mayo, you write, "I imagine a brass band, a second line, the Neville Brothers and Lil Wayne. My stomach is nodding along with the music." How did music and food become so connected for you?
Samuelsson: Being Black--especially being in a white country--I had to constantly define my level of normalcy. So, music was that thing. You came to our home, Miriam Makeba was playing, Marvin was on the speakers, Prince constantly in my sister's and my room, A Tribe Called Quest. When I looked at Blackness and excellence, it was through music.
My goal one day is that when you look up Black food, you can define it the way you can define music. When you look at American music, the way it's divided between gospel, R&B, rock and roll, hip-hop, etc., those are promises to a sound, but it's almost like a pantry of flavors. We're not there yet with how we define our food. I hope one day.
Who or what is inspiring how you're cooking right now?
Samuelsson: I'm inspired by us. When I speak to Mashama [Bailey], she's got a book coming up. When I speak to Kwame [Onwuachi], he's cooking more than ever. If I call Eduardo [Jordan] right now, he's cooking. Patricia [Gonzalez], 18 years old, she's in my kitchen cooking. Covid is here, but it hasn't stopped us. Yes, we have this horrible, horrible, horrible thing, but I think that so much energy has been also given to us through the movement of Black Lives Matter. I'm inspired by the movement of us telling our stories.
---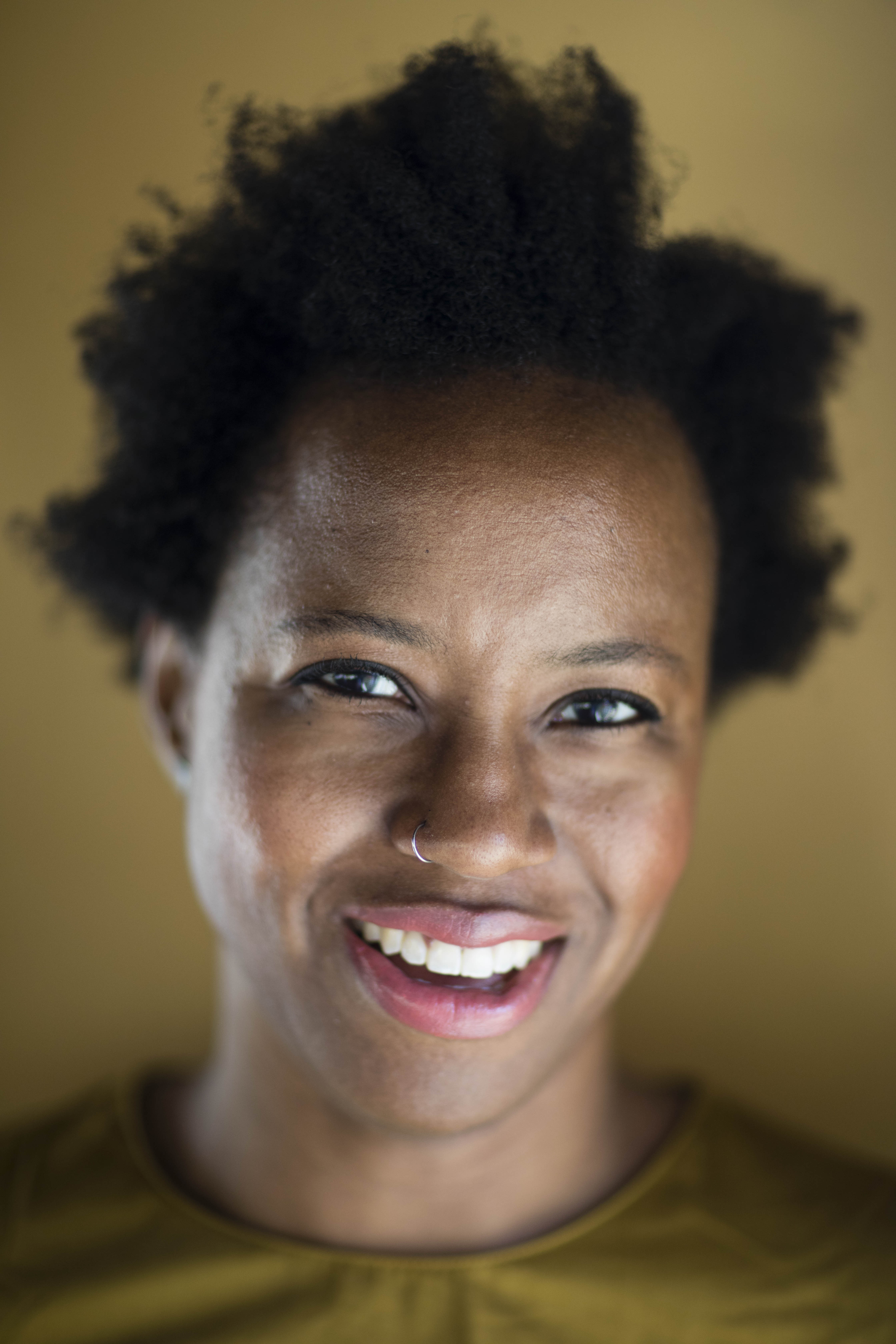 (Lucy Schaffer Photography)
The winner of a 2018 James Beard Award, Osayi Endolyn is a writer whose work has appeared in the Washington Post, the Los Angeles Times, and many more publications. Living in Brooklyn, N.Y., she is currently working on multiple collaborative books as well as a solo one, coming from Amistad in 2022.
What excited you or intrigued you when you heard about the project?
Osayi Endolyn: I was really excited about the ability to explore in cookbook form a collection of experiences that conveyed the range and diversity of Blackness and food in this country. I think it's always been over-truncated. To put all these stories together, at the very least, asks a reader to consider what they think of when they try to define Blackness--and it's indefinable in its expansiveness. This seemed like an incredible opportunity to continue to help shape a conversation that many people had been contributing to for a long time but to do it in a way that someone like only Marcus can.
How did the people you spoke to feel about being interviewed--about having parts of their stories represented and their voices amplified?
Endolyn: The conversations were wide-ranging. Sometimes I found people were almost a little mystified at how interested I was in what they ate growing up, and what foods landed on their dinner table, and the food stories that they recalled. I had to really push in some of those conversations to ask people to not dismiss whatever it was their family practices were or whatever that food was. I saw that even for people at this level in their careers, there was still a way that we were sometimes minimizing ourselves--minimizing our stories.
I came on board in this project in late 2017. I think from where we started with these early conversations to where we are now, it does feel very powerful because I don't know that the political value of this book was as demonstrably there for people at the outset as it is now.
We're seeing finally some beginning of what looks like a reckoning in food media, in response to the Black Lives Matter movement. I wonder how hopeful you are about how real that change is.
Endolyn: It's really hard to say because we've always been very good at making exceptions out of people. I grew up most of my life throughout California. I was often the only Black person in rooms or spaces, and so to me it's not that exciting to have just one of us, or a couple of us. Yes, I celebrate individual wins--my own and others. I celebrate collective opportunities. I really work behind the scenes very hard to ensure that folks know what their options are in terms of who they bring on board for different projects and what they can ask for and what they can push back against--and it's still very hard. It's still very hard.
There is real personal and structural interrogation that needs to happen. I would say that I think the opportunities are available for people to create the change they say they want to see and that I'm not yet convinced. I hope to be a part of this ongoing shift, but the gradual, exceptional nature of it is dissatisfying even with all the successes. The parity is still far from being present. --Sylvia Al-Mateen, freelance reviewer and editor

Book Reviews
Food & Wine
Artisan Books, $75, hardcover, 400p., 9781579658496
Voracious/Little, Brown, $38, hardcover, 336p., 9780316480680
Ten Speed Press, $35, hardcover, 320p., 9780399581755
Thames & Hudson, $34.95, hardcover, 224p., 9780500023013
Voracious, $35, hardcover, 352p., 9780316381123
Agate Surrey, $29, hardcover, 248p., 9781572842892
Tiller Press, $29.99, hardcover, 192p., 9781982144562
Sourcebooks, $29.99, hardcover, 272p., 9781492697893
Chronicle Books, $29.95, hardcover, 272p., 9781452178639
Clarkson Potter, $35, hardcover, 256p., 9780804187060
Touchwood, $30, hardcover, 9781771513296
Running Press, $32.50, hardcover, 224p., 9780762495580
Red Lightning Books, $22, hardcover, 232p., 9781684351022
---